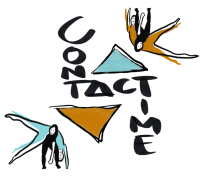 05. – 10. September 2023
Cancelled!
6 days of Contact Improvisation practice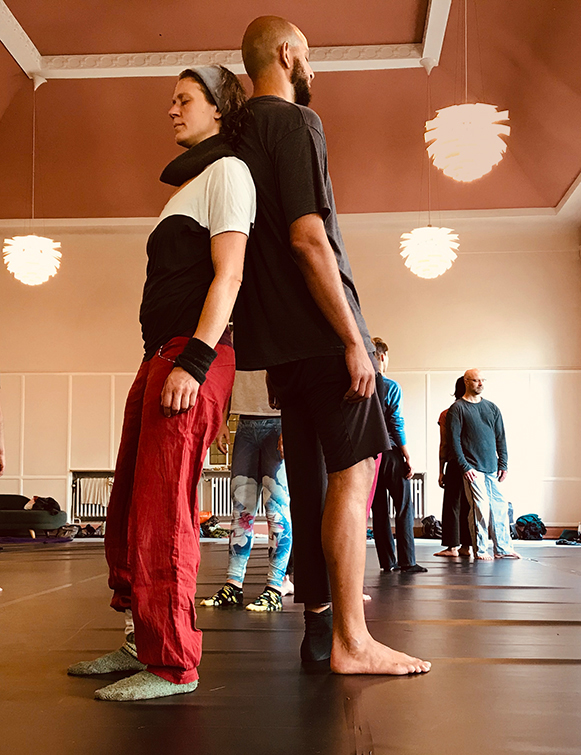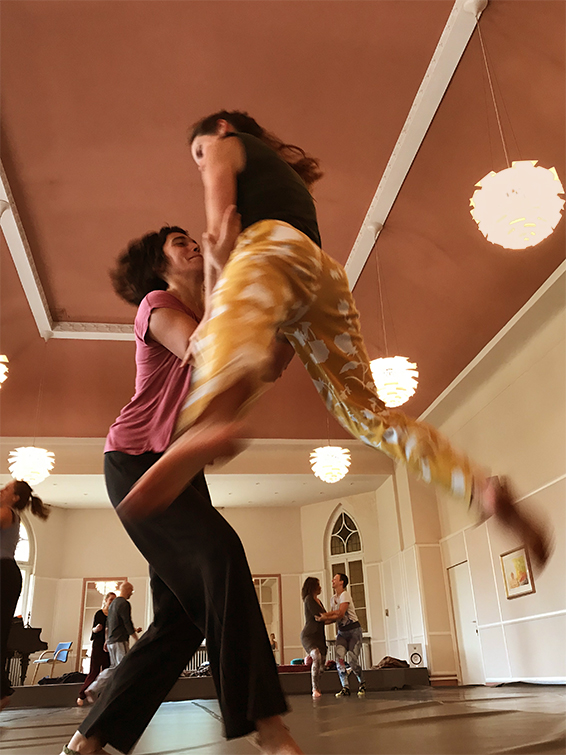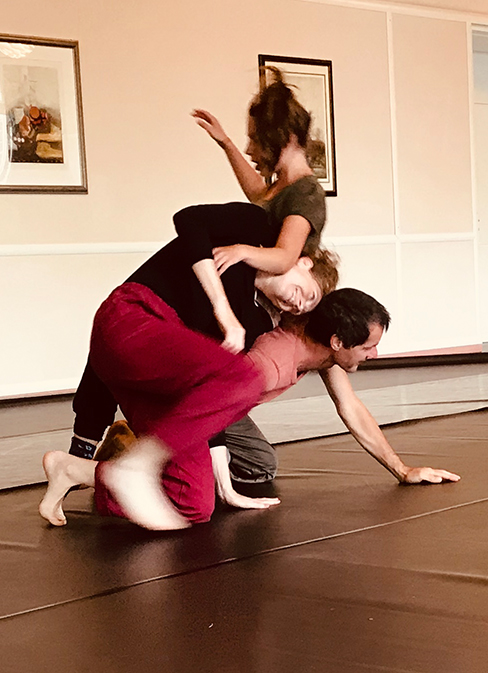 05. – 10. September 2023
Cancelled! Unfortunately we have to cancel the festival for this year!
A wonderful opportunity to delve and dive into Contact Improvisation
and dance with a small and committed group of around 30 people.
For 6 days Contact Time is providing a variety of
classes, labs, outdoor dancing and of course: jams!
Somatic exploration and principles of CI will smoothen our dancing bodies
and provide a base to also follow other topics of
Contact Improvisation: witnessing, words and music.
How do words inform my body in improvisation?
What am I experiencing when dancing CI with music or silence?
How can I weave a jump or lift into my dance without effort?

This year Contact Time following teachers will guide classes throughout the days:
Eva Schorndanner
Jo Bruhn
Jennie Zimmermann
Laura Hicks

For the second time we will be hosted in the beautiful Zukunftsdorf Waldhof, a young community in Hessen/Germany. The place provides a studio in the inspiring ambience of a former beautiful part of a hospital and retreat center. Surrounded by forest with old beech trees it is a wonderful place to dance, listen, contemplate, share and create. Whenever you have a need to rest, walk or be on your own, there is plenty of nature to explore and do so.
The festival is open for all bodies and genders.
If you have little experience in Contact Improv or any questions, please talk to us before registering.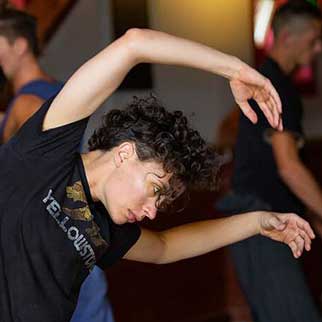 Laura Hicks (1979) is a Canadian living in Germany, working in performance, choreography, and education. Her work is an exploration of kinaesthetic states, affects and intensities that are constructed through improvisation and she has producing choreographic works independently since 2008.
She holds a BA in International Development Studies from McGill University and an MA in Contemporary Dance Education from HfMDK. Since 2014 she has been an adjunct professor for the Frankfurt University of Music and Performing Arts offering classes in Anatomy for Dancers, Contact Improvisation, Body Awareness, Contemporary Technique, and 'Szenische Körperarbeit' for actors. Her practice of CI began in 2004, and has been strongly influenced by teachers such as Peter Bingham, Nancy Stark Smith, Steve Paxton, Karen Nelson, Andrew Hardwood, and Chris Aiken, among others.
In this contact class we spend time tuning our sensations though solo dancing, turning on the sensitivity of our skin and our kinesthetic sense by using elements of what I call "tracking" (following something) or "scripting" (limiting our choices). We will then look at ways that the solo score can continue while in contact, and how the meeting and working with sensation can bridge techniques of partnering with techniques of improvisation.

Based in Berlin since 2001 she studied naturopathy focused on different bodywork approaches and herbal medicine, followed by an artistic lifestyle full of voice and movement improvisation, contemporary dance studies and physical theatre.
She is part of the Contact CompanI and Phyla, where she uses movement improvisation, somatic practice, filming and the development of sound scapes as performative elements.
She teaches Contact Improvisation with an explorative curiosity on anatomy and is about to finish her Somatic Movement Educator training at the school of Body Mind Centering®.
Together with Jo Bruhn she organizes Contact Time.
Connected

Connective tissue is a term for many different tissues in our body. These tissue can be fluid, bouncy, stable or strong. It connects or distinguishes throughout our body.
As connective tissue provides our movement with elasticity, gives stability to our skeletal system, stores water, supports the organs, shapes our body, it also shapes our dances.
In this class we explore the connective tissue through movement, imagination and touch. We use the qualities we find to feel connected inside our bodies and connect with others in a dance.

Dancing with words
In this class I like to offer scores and invite language to the practice of Contact Improvisation. 
We can use words in a descriptive or prescriptive way and speak from an observing point of view as a witness, or from a felt point of view as a dancer. We can ask questions or provide ideas and inspiration, we can invent stories and play.
How do words inform our moving body in improvisation?
Jo Bruhn is a passionate dancer, performer and CI teacher.
Since 2001 he dedicated his life to performing arts in various facets. As acrobat, fire show artist, as
stilt walker, as actor*, choreographer and most important – as dancer.
The intense work with Nancy Stark Smith inspired Jo's teaching, dancing and his artistic approach
to dance.
Jo took part in the Contemporary Dance education "Dance Intensive" at the Tanzfabrik Berlin and
in countless workshops in CI, Axis Syllabus, Klein Technique, acrobatics with various teachers like
Jörg Hassmann, Frey Faust, Britta Pudelko amongst many others.
Recently deep inspiration came from Atsushi Takenouchi and his work with Jinen Butoh.
Jo is part of the "Contact companI" and co-organizer of "Contact Time" and works as a
solo artist and in collaboration with others like Aude Fondard (Dance – theater "Designed to Die?"),
Jennie Zimmermann (mosaique, Contact Time).
How can I weave a jump or lift into my dance without effort?
How can I use principles without following too strict a form?
How can I lift or be lifted by mutual agreement?
For me lifts and jumps are an essential part of Contact Improvisation.
A question that keeps me busy again and again is how they can happen as effortlessly as possible and without much muscular strength, whether they are done with or without much momentum.
In this workshop we will easily explore some flying facets of Contact Improvisation. About reading the partners and the moment when the lift can happen together. In this way we create forms and play with them in improvisation.
The Underscore is a dance improvisation structure developed by Nancy Stark Smith. Based in Contact Improvisation, it comprises a spectrum of states, from quiet, internal activity to high-energy, interactive dancing. Undirected; for research and play.
www.contactandflow.com
www.andiamokollektiv.com
Eva studied music and movement at the Berlin arts university, having a wide training in music and dance improvisation.
She works as a freelance artist and as an art facilitator in the area of music, dance and performance in national and international projects in Germany and Mexico.
Her passion for contact improvisation is since 2012 an important part of her personal and professional life. In the last years she connected her improvisation practice with dancing in water and nature places. Since 2016 she is organizing and facilitating in the contactANDflow festival, Mexico.
A music – movement dialogue
Let's dive into a collective research exploring the influence of music in our CI practice.
Inside the frames of clear simple scores playing around with the sound of our voices and instruments.
Bringing them in a dialogue with our movements.
I would like to invite to observe, to listen and to experience, what music makes with our dancing and which qualities we can find there and how this is in a continuous contrast with silence.
The Gaze - Outdoor Workshop
There might be changes but that's the schedule for now: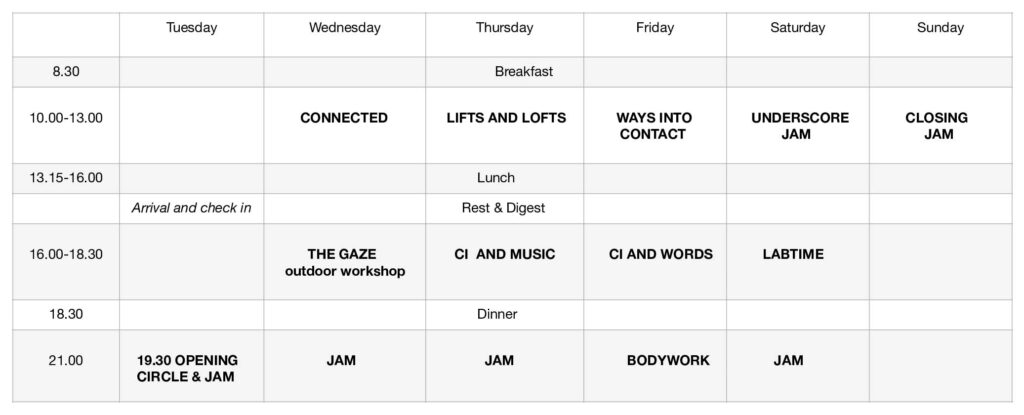 Do you want to stay updated about our events?
Get our newsletter
(more or less four times a year).