Flying
Falling
Improvising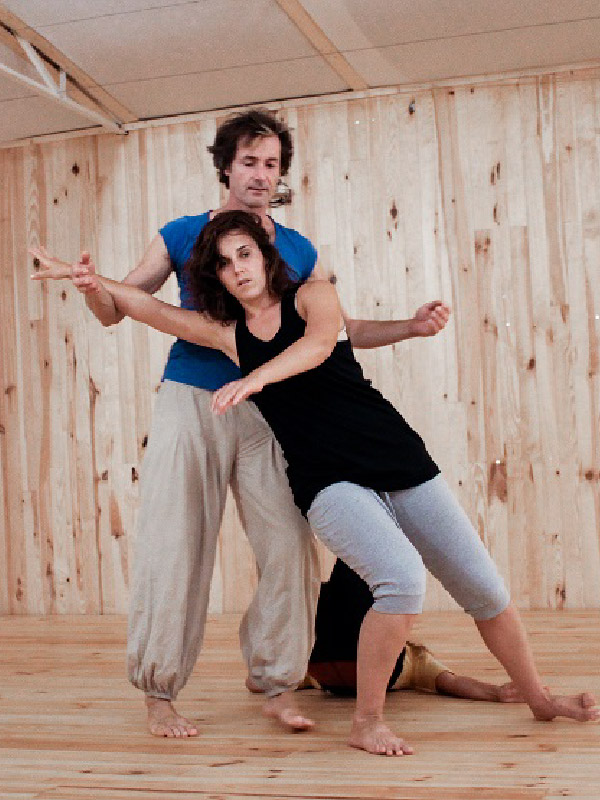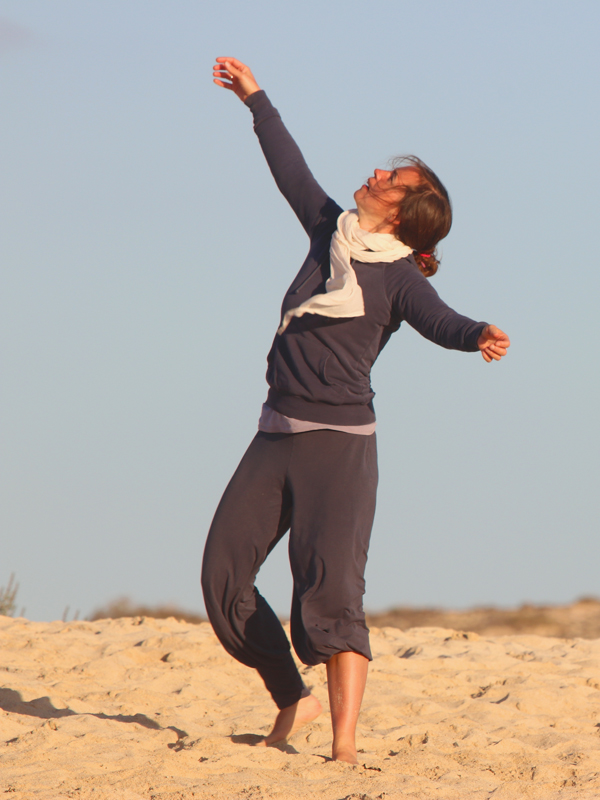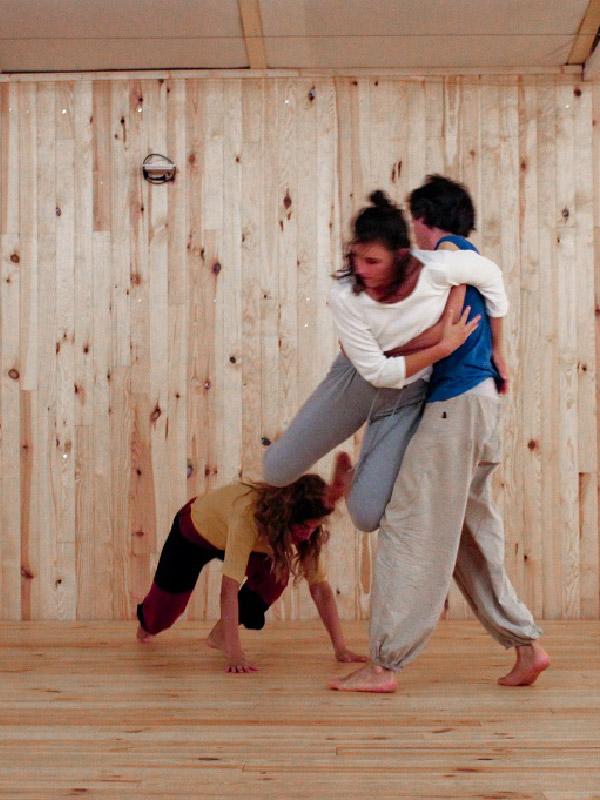 Enjoy 6 days of movement research and somatic exploration in Portugal, just 40 min. south of Lisbon.
We offer a structure with workshops, lab time and jams that will carry us as a group through the festival days. Whenever you have a need to rest, walk or be on your own, there is plenty of nature to do so. We will dance in the studio and outside, inspired by the landscape of Arrábida Nature Park and the beautiful sandy beach.
The festival welcomes all bodies and genders.
Do you want to stay updated about our events? Click here for our newsletter (more or less four times a year).
Angela-Mara Florant had her first experience with CI during her performance arts studies in Besançon, France. In 2005 she moved to Hamburg. She teaches several regular contact classes, gives workshops and organizes jams and festivals (NORDTANZ Festival). Since 2015, she is co-director of the dance studio "Triade" in Hamburg.
When Angela-Mara is not dancing or teaching CI she is teaching Pilates, directing independent theater productions, choreographing dance pieces (mostly based on CI) and teaching theater and dance to children. In 2022 she created the Contact CompanI, a dance companie based on Contact Improvisation.
Teachers that have inspired her work are: Nancy Stark Smith, Jörg Hassmann, Nita Little, Anjelica Doniy, Heike Pourian, Daniela Schwartz, Eckhard Müller, Mirva Mäkinen, Martin Keogh, Frey Faust, Scott Wells, Andrew Hardwood, Daniel Lepkoff…
"For me CI is an art form. I love allowing my dance to be inspired by the composition of the room."
Jennie's desire to create mindful settings of interaction has led her to engage with embodiment practices and Contact Improvisation.
Based in Berlin since 2001 she studied naturopathy focused on different bodywork approaches and herbal medicine, followed by an artistic lifestyle full of voice and movement improvisation, contemporary dance studies and physical theatre.
She is part of the Contact CompanI and Phyla, where she uses movement improvisation, somatic practice, filming and the development of sound scapes as performative elements.
She teaches Contact Improvisation with an explorative curiosity on anatomy and is about to finish her Somatic Movement Educator training at the school of Body Mind Centering®.
Together with Jo Bruhn she organizes Contact Time.
Aude trained for stage acting in France and in London (2005-2009). They reconnected with dance, thanks to Mira Mansell, Entity Dance Company, Sydney. From 2011 Aude delved into the contemporary dance world with Stella Zannou, Britta Pudelko and Rakesh Sukesh, at Tanzfabrik, Berlin. They eventually joined Atsushi Takenouchi's Jinen Butoh School in Tuscany (2016-17).
One of their focus as a dance artist is landscape. Aude is especially interested in the spirit of the place, and its impact on human beings. When they are not performing or writing poetry, Aude facilitates Contact Improvisation jams and classes, butoh-inspired dance journeys and dance with nature sessions.
Aude launched Cie Amako! in 2020, an association based in Marseilles, supporting their poetic and dance performances. This videoclip gives an idea of a recent production.
Jo Bruhn is a passionate dancer, performer and CI teacher.
Since 2001 he dedicated his life to performing arts in various facets. As acrobat, fire show artist, as
stilt walker, as actor*, choreographer and most important – as dancer.
The intense work with Nancy Stark Smith inspired Jo's teaching, dancing and his artistic approach
to dance.
Jo took part in the Contemporary Dance education "Dance Intensive" at the Tanzfabrik Berlin and
in countless workshops in CI, Axis Syllabus, Klein Technique, acrobatics with various teachers like
Jörg Hassmann, Frey Faust, Britta Pudelko amongst many others.
Recently deep inspiration came from Atsushi Takenouchi and his work with Jinen Butoh.
Jo is part of the "Contact companI" and co-organizer of CI festival "Contact Time" and works as a
solo artist and in collaboration with others like Aude Fondard (Dance – theater "Designed to Die?"),
Jennie Zimmermann (mosaique, Contact Time).
I'm a Hungarian contemporary artist. Teacher,  performer, director,  puppeteer; based in Lisbon. As a teacher I was working 4 years in an elementary school, 3 years in a dancing specialised high school and I was holding many workshops in the Balkans, in France, Germany, Netherlands, Italy, Portugal, Dubai, Armenia and Iran.
My last 20 years in theatre helped me to travel the world,  my last 15 years in contact improvisation helped me to understand it. Or at least to ask better questions… Important CI-teachers include Eszter Gál, Péter Lipka, Tamás Bakó, Anya Cloud, Alex Guex and Scott Wells.
Francisco is a beautiful, humble, curious, simply complicated and eccentric human being born in the Azores Islands [PT] who loves to dance. His first contact with Contact provoked a sudden revolution in his life. It was love at first sight(touch?). He studied/practiced mainly at TOWARDS: center for practice and research of Contact Improvisation in Thailand. He's a founding member of the Human Garden project, eco-somatic performance artist, videographer, dancer, poet, philosopher, freediver and musician. Since 2020 he dedicates his life to the practice, research and teaching of CI around the globe.
His work is inspired by Aikido, Zen, Butoh, San Pedro, Dzogchen, Vipassana, Advaita, Babies, Cats, Whales, Mindfulness, Yin Yoga, Dance, Somatics, Body-Mind Centering, Being Nature, Practicing Beings, Human Garden, Freediving, OceanDance, etc.
Memories of the last Contact Time @ SerVivo