Landing into Contact Time >
20.-25.3.2024
Contact Improvisation,
Axis Syllabus,
Body Mind centering®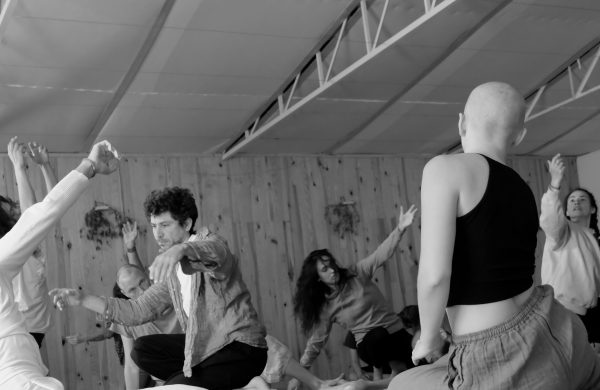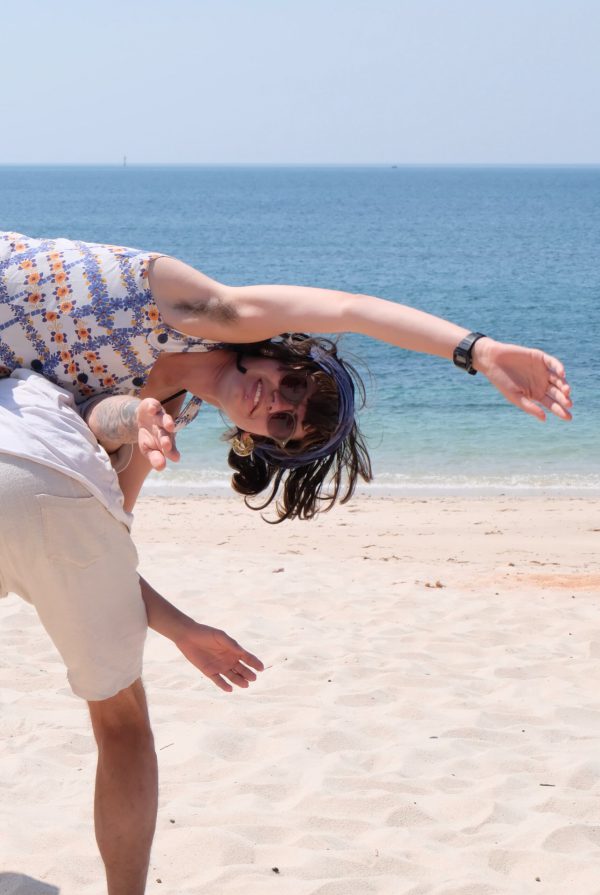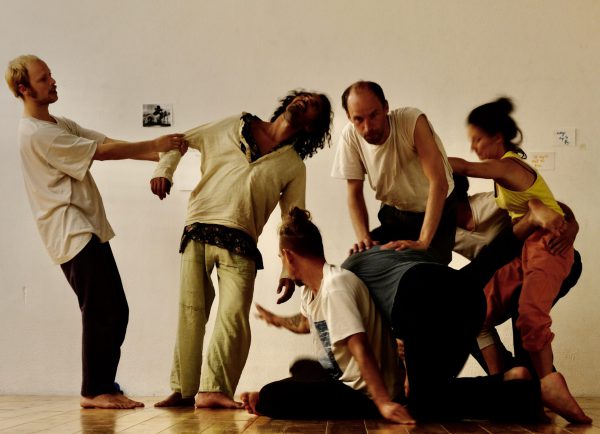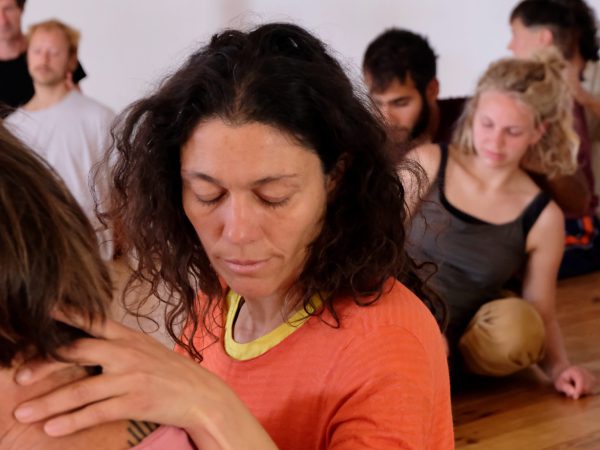 Contact Time
26.-31.03.2024
Let's get together and spend Easter in a different way:
6 days to explore Contact Improvisation as a movement practice, based on an artistic approach and somatic practices. This time we are excited to inquire and support our dancing bodies with material drawn from Axis Syllabus and Body Mind Centering®.

A structure of workshops, lab time and jams will carry us as a group through the days.
We will dance in the beautiful studio of SerVivo and, inspired by the landscape of Arrábida Nature Park and stunning sandy beaches, spend time dancing outside.
Situated in SerVivo, a 40min drive south of Lisbon, Portugal we meet with 30 to 40 people. This size of a group gives the opportunity to connect to most of the others without getting overwhelmed easily. Whenever you feel the need to rest, walk or be on your own, there is plenty of nature around to enjoy.
Our festivals welcome all bodies and genders.
Any level of experience is welcome. If you never danced Contact Improvisation before, we invite you to arrive rather early during landing time. Like this you can slowly arrive as well in the practice.
Do you want to stay updated about our events? Click here for our newsletter (more or less four times a year).
Contact improvisation is a form of improvised partner dancing that has been developing internationally since 1972. It involves the exploration of one's body in relationship to others by using the fundamentals of sharing weight, touch, and movement awareness. It has evolved into a broad global community of social dancing around "jams" characterized by their welcoming attitude towards newcomers to dance, as well as seasoned practitioners.
American dancer and choreographer Steve Paxton originated contact improvisation, drawing from his past training in Aikido, a martial art form, to explore and push boundaries with his colleagues and students to develop this new practice. Contact improvisation plays with the artistry of falling off balance, counterbalance, finding the shelves of the body, learning the mechanics of the body in order to handle someone else's weight or be lifted, breathing techniques, and can involve the art of getting to know your partner past the physical point through the physicality.
Steve Paxton, along with other pioneers Nancy Stark Smith, Danny Lepkoff, Lisa Nelson, Karen Nelson, Nita Little, Andrew Harwood, Peter Bingham, and Ray Chung, thus participated in creating an "art-sport," oscillating between different emphases depending on the moments and personalities.
Axis Syllabus is a collection of information about the limits and potentials of human locomotion. This rich source draws on numerous fields of science including anatomy, physics, biology, embryology, biomechanics, etc.
Being informed is the cornerstone of making an intelligent decision when choosing a movement practice. Although we humans have all evolved unique body architecture, there are commonalities in form, structure and function due to the laws of nature to which we are all equally subject. These commonalities provide us with a reference point to develop a deeper understanding of the moving body in space and time.
Axis Syllabus provides observation and exploration tools, proposes strategies, and offers a unique perspective on how we can improve our movement skills to feel resilient and self-empowered in our individual learning. Its originator Frey Faust is a brilliant dancer, choreographer, teacher and the author of the book "The Axis Syllabus" Human Movement Lexicon. His wisdom and unique perspectives on the living human body in motion are visionary and ground-breaking. His indispensable efforts to educate and critically engage are a powerful inspiration to all who aspire to a self-determined life.
Body Mind Centering® (BMC) is based on the embodiment and application of anatomical, physiological, psychophysical and developmental principles.
BMC® explores movement, touch, voice and mind and teaches us to recognise ourselves and interact with others, through focusing attention and intention.
Developed by dancer and occupational therapist Bonnie Bainbridge Cohen,  BMC® fosters a dynamic body mind awareness for processes of learning and repatterning. The method takes place in dance and movement training, bodywork, physiotherapy and occupational therapy and is constantly evolving.


Landing into Contact Time
20.-25.3.2024
Starting on 20th March we warmly invite you to come to SerVivo. Take the time to arrive, go to beaches (15-45min. drive away), dive already in CI in jams and enjoy the growing group. We will gather in the mornings to meet each other, connect and plan activities for the day.
This time is for people who want to feel already more arrived when the festival starts. 
Food will be self managed. This means we organize together shopping (10-15min drive away), cooking and cleaning. You can already set up your tent, move into the dormitory, park your camper. Paying just 15€ per night plus food.
Landing into Contact Time is connected to Contact Time and not to be attended separately.
Contemporary Dance researcher
A professional dancer since 2003, her main motivation is the idea of transformation and participation, driven by intuition and pleasure. Her latest works #VIBRA #DOR and CORPO SANTO are a mark of her artistic career with an interest in ritual and performance, with MA-MA and Pela Nossa Pele, in the anthropocene and ecofeminism and, more recently, research and creation on the autobiographical.
In 2005 she created and directed Baila Louca improvisation and performance in Rotterdam, a platform that has nurtured various international collaborations with choreographers, dancers and musicians. She won first prize in the Solo Dance Contest (2012) at the Gdansk Dance Festival – Club Zak , Poland. In Portugal, she is the artistic director and founding member of the Partícula Extravagante association and the program maker of Partícula no Açúcar an experimental platform.
Since 2005, she has been an active member of the Contact Improvisation practice, facilitates CI around the world and co-organises the Portugal Contact Improvisation Festival and Contact Improvisation Portugal Extravagante. She divides her time between teaching and studying. She is a guest teacher at the Escola Superior de Dança, at similar colleges in Holland, as well as at various international festivals. She has a Master's degree in Performing Arts from FCSH, is a PhD candidate in Artistic Studies – Art and Mediations at Faculdade Nova de Lisboa (FCSH), and is a researcher at ICNOVA – Performance and Cognition.
Dance and Movement Educator / Axis Syllabus
I began my dance and performance studies in Germany in 2001, shortly after seeing a breathtaking dance performance that introduced me to the beauty and depth of the art of dance. Over a period of seven intensive years of study, I learned and explored dance in two different professional training programs.
My search for a movement expression that meant more freedom and that allowed me to discover and follow my own inherent body intelligence brought me to the inspiring work of Axis Syllabus in 2011. Through this encounter, my understanding of the moving and dancing body fundamentally changed and I have since dedicated myself to studying and teaching the information and perspectives offered by Axis Syllabus.
I have been a certified Axis Syllabus teacher since 2023.I am currently offering dance classes and workshops on a regular basis and teaching the perspectives and principles of Axis Syllabus to aspiring dancers and movement enthusiasts in Berlin and France.
Somatics and Dance / Body Mind Centering®
Jennie has been dancing Contact Improvisation for more than 15 years.
She teaches Contact Improvisation with an explorative curiosity on anatomy and is about to finish her Somatic Movement Educator training at the school of Body Mind Centering®.
She studied naturopathy, where she engaged in intuitive and process-based bodywork approaches and herbal medicine since 2001 and followed the Laban Bartenieff Movement Analysis Programme at Eurolab Berlin. For many years she collaborated in the street theatre company mosaique and performed fire, dance and stilt shows. Her performances now are somatic and improvisation based and they offer experiential spaces augmenting elementary and dynamic processes of communication/ activity and regeneration/ self-care/ retreat and community.
Together with Jo Bruhn she organizes Contact Time.

Jo Bruhn is a passionate dancer, performer and CI teacher.
Since 2001 he dedicated his life to performing arts in various facets. As acrobat, fire show artist, as
stilt walker, as actor*, choreographer and most important – as dancer.
The intense work with Nancy Stark Smith inspired Jo's teaching, dancing and his artistic approach
to dance.
Jo took part in the Contemporary Dance education "Dance Intensive" at the Tanzfabrik Berlin and
in countless workshops in CI, Axis Syllabus, Klein Technique, acrobatics with various teachers like
Jörg Hassmann, Frey Faust, Britta Pudelko amongst many others.
Recently deep inspiration came from Atsushi Takenouchi and his work with Jinen Butoh.
Jo is part of the "Contact companI" and co-organizer of CI festival "Contact Time" and works as a
solo artist and in collaboration with others like Aude Fondard (Dance – theater "Designed to Die?"),
Jennie Zimmermann (mosaique, Contact Time).
Aude trained for stage acting in France and in London (2005-2009). They reconnected with dance, thanks to Mira Mansell, Entity Dance Company, Sydney. From 2011 Aude delved into the contemporary dance world with Stella Zannou, Britta Pudelko and Rakesh Sukesh, at Tanzfabrik, Berlin. They eventually joined Atsushi Takenouchi's Jinen Butoh School in Tuscany (2016-17).
One of their focus as a dance artist is landscape. Aude is especially interested in the spirit of the place, and its impact on human beings. When they are not performing or writing poetry, Aude facilitates Contact Improvisation jams and classes, butoh-inspired dance journeys and dance with nature sessions.
Aude launched Cie Amako! in 2020, an association based in Marseilles, supporting their poetic and dance performances. This videoclip gives an idea of a recent production.
Jakob has been practising contact improvisation for over 15 years, being part of the CI-scene in Berlin for many years, living in Nigeria for four years exchanging dance and movement, teaching workshops at festivals in Togo, Benin, Nigeria and weekend workshops in the Austria, Germany, France, USA, Poland and Portugal.
He had the privilege to have learned from various first generations CI-dancers and tries to keep the early insights alive.
Currently, he is one of the main facilitators of CI in Lisbon.
I'm a Hungarian contemporary artist. Teacher,  performer, director,  puppeteer; based in Lisbon. As a teacher I was working 4 years in an elementary school, 3 years in a dancing specialised high school and I was holding many workshops in the Balkans, in France, Germany, Netherlands, Italy, Portugal, Dubai, Armenia and Iran.
My last 20 years in theatre helped me to travel the world,  my last 15 years in contact improvisation helped me to understand it. Or at least to ask better questions… Important CI-teachers include Eszter Gál, Péter Lipka, Tamás Bakó, Anya Cloud, Alex Guex and Scott Wells.
Apesar dos nossos esforços para aprender português e devido à diversidade linguística dos convidados que visitam o SerVivo, o inglês internacional será utilizado para ensinar durante o Tempo de Contacto. A página web e as descrições estão, portanto, todas em inglês. Obrigado pela vossa compreensão e vamos misturar línguas e culturas uma vez juntos.
Despite our efforts to learn Portuguese and due to the linguistic diversity of guests visiting SerVivo, international English will be used to teach during Contact Time. The webpage and descriptions are therefore all in English. Thanks for your understanding and let's blend languages and cultures once together
The costs for the whole Contact Time festival (26.-31.3.2024), accommodation and food are 380-330€ depending on how much you can pay.
The price for the Landing into Contact Time (20.-25.3.2024) is 15€ per night plus food.
During the festival, Yentl, our wonderful cook, will prepare delicious vegan and vegetarian meals from mostly organic and locally sourced ingredients.
If you have any allergies, please let us know beforehand.
Landing into Contact Time starts on Wednesday 20th March noon.
Contact Time festival starts on Wednesday  26th March 5pm.
We invite you to arrive latest in the early afternoon and take your time to land in SerVivo. The first common meal will be dinner.
The festival ends on Sunday  31st March afternoon.
You can stay one extra night for additional 15€, check out is Monday 10:00 am. We kindly ask you to respect this time since the team of SerVivo needs a clear ending of the event to have a happy rest after.
You are welcome to bring your own tent, sleeping bag and mat and camp outside. Be aware that it can be cold at night.
If you would like to sleep in the house, we can offer you a space in a dormitory (bunk beds for 6-8 people per room).
Comfortable clothes for movement in- and outdoors
Sun protection
Mosquito repellent
Swimming suit
Towel
Bottle for drinking water
A food box to take lunch to the beach
Torch
Enough clothes we cannot do laundry!
Warm cloth, yes it might get chilly at night…
Register by clicking here.
After having sent the registration form please pay a deposit of 80€ to:
Jennie Zimmermann, Johannes Bruhn
IBAN: DE70 2802 0050 8227 7419 00
BIC: OLBODEH2XXX
Subject: Deposit Contact Time
Amount: 80€
If the transfer costs you a big fee, don't do it and let us know, we will find a different solution.
Should you cancel until two weeks before the festival (which we do not hope, of course), we will transfer you 70€ back. Should you cancel later, we keep the deposit. If you cancel less than 48h prior the festival, you are obliged to pay the full festival price.
Before the festival we will send out more information.
Memories of Contact Time @ SerVivo